Congratulations to our Care Champions. Through our national program, we continue to recognize our team members across Canada who go above and beyond every day for those we serve. 
 Meet our Care Champions: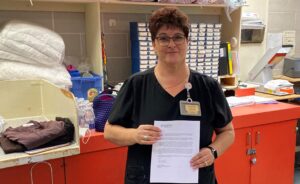 Lucia Toste, Laundry Aid at Extendicare West End Villa, Ontario, nominated by a peer.
"Lucia has been working at West End Villa for 43 years. She's an awesome employee, extremely dedicated to our residents and her position as a laundry aide. Lucia is truly the backbone of the laundry department. She knows her job inside out and could do it in her sleep, she's that efficient. She was always the one to put in extra hours. We are truly blessed having Lucia as an employee, as going above and beyond has always been the norm for her."
Tony McCooeye, Housekeeping at Extendicare Laurier Manor, Ontario, nominated by a peer.
"Tony has been with Laurier Manor since 2015 and has always been here to help keep our residents safe through his day to day cleaning, disinfecting and just helping our residents with whatever they need. Tony was driving home and saw one of our residents stuck in the snow at one of the bus stops. He pulled over and proceeded to help and was able to get the resident out of the snow and to the bus stop to get him back home. The resident commented that Tony was his lifesaver."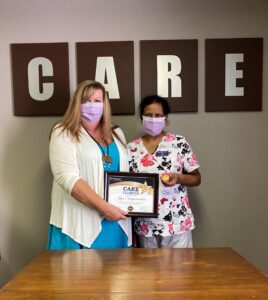 Jeya Sivagurunathan, Dietary Aide at Vista Park Lodge, Manitoba, nominated by a peer.
"Jeya makes person-centered resident care her priority and goes over and above to ensure an excellent dining experience. She voluntarily supports other departments, assists residents to the dining room, is a champion in learning the residents' likes and dislikes, and maintains great communication with the Nurses and Health Care Aides. When Jeya works, the dining room flow is always extra smooth."