Congratulations to our latest Care Champions. Through our national program, we continue to recognize our team members across Canada who go above and beyond every day for those we serve. 
Meet our Care Champions: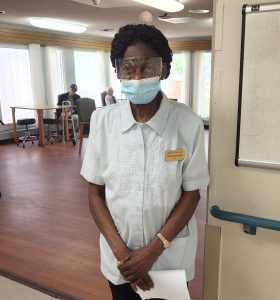 Lilith Hunter, Health Care Aide at Tuxedo Villa, Manitoba, nominated by staff.
"Lilith is a Health Care Aide who has worked for Extendicare for 47 years and has never called in sick. She helps feed, answers calls, and is a resource to other Health Care Aides. She is a wonderful, knowledgeable team member." 
Ellise MacPherson, PSW at Extendicare Vulcan, Alberta, nominated by a family member.
"My dad had a tough time transitioning to living at the home from the farm and Ellise made it possible. My dad lights up when he sees her. She lights up a room when she enters and brings joy to the residents. She understands them and makes them feel worthy. She has also helped my mother and me with the new situation, spending time with both of us and talking us through various events. I cannot say enough about her work ethic and personality, something that is sorely missing in this world. She stands out. She has become a friend when friends are needed most."
Liz Almeida, PSW at Extendicare Southwood Lakes, Ontario, nominated by a family member.
"Liz is always so cheerful and laughs with my mom often and they talk about many things. My mom likes to have a snack before she goes to bed since she says she sleeps better if she does and Liz always makes her a special treat that she can enjoy. As a family, we are so lucky to have Liz as one of the PSWs who takes good care of our mom. She makes her feel safe and cared about and that makes us feel secure in her care."